Grand Piano 170
---
More Than a Century of Artistic Expression

Vienna, 1908
---
Ludwig Bösendorfer draws the first sketches of the Grand Piano 170 for the highly cultured salon society of Imperial Vienna. The result is an enchanting instrument for the private cheerful gatherings of the bourgeois, and nobility. More than a century later, this Bösendorfer Grand still enjoys popularity. A true Bösendorfer Sound experience even after more than a century of music's history.

Characteristics
---
Resonance case principle and solid spruce rim construction for advanced projection
Independent Capo d'Astro for perfect adjustment in the descant registry
Sophisticated processing of European raw materials exclusively
Resonance body out of Austrian tone wood spruce
Hand spun Bösendorfer bass strings
Handcrafted in Austria
Single stringing
3 pedals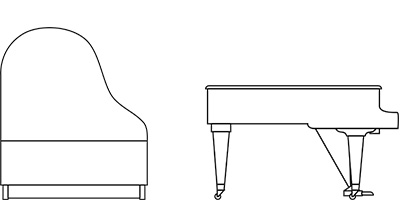 Specifications
---
 Length 5'7"
Width 4'11"
Weight 700lbs
88 Keys

Optional
---
Bösendorfer Silent Edition
Chrome finish

Bösendorfer Silent Edition

---
This Bösendorfer Grand is also available as Bösendorfer Silent Edition. Get inspired by the Bösendorfer Sound at day, at night. We exclusively use the state of the art Yamaha Silent System SH. Mechanical and acoustic qualities are neither altered nor changed in the slightest. Musical inspiration acoustic and digital in nature: a sound wave oscillating in two worlds.