25.09.2017
20:00
---
On the occasion of 10 years "Hollywood in Vienna", the annual gala of the film music, initiator and organizer Sandra Tomek has spared no effort and presents a fireworks of events, spiked with artists, which can not be more different.
Janoskas go Hollywood and the Golden Record

---
The Janoska Ensemble is going on a musical journey on Monday, September 25, 2017 with its deeply personal vision of modern work interpretation, the "Janoska Style", on the origins of Viennese film music and today's soundtrack highlights you have never heard of. With a lot of jokes, wit and pleasure in improvising, the Janoska Ensemble spans the bow of Johann Strauss to the works of Viennese film music pioneers such as Max Steiner ("Vom Windinde Verweht", "Casablanca") and their prominent successors such as Lalo Schifrin ("Mission Impossible "), Ennio Morricone (" Cinema Paradiso "), John Williams (" Schindler's List "," Star Wars "), Justin Hurwitz (" La La Land ") and his own compositions such as" 007 am Naschmarkt ".
In the course of the elegant concert evening, the Janoska Ensemble will be given the Golden Record for their debut album "Janoska Style", published by Deutsche Grammophon. The evening moderation will be given by Barbara Rett.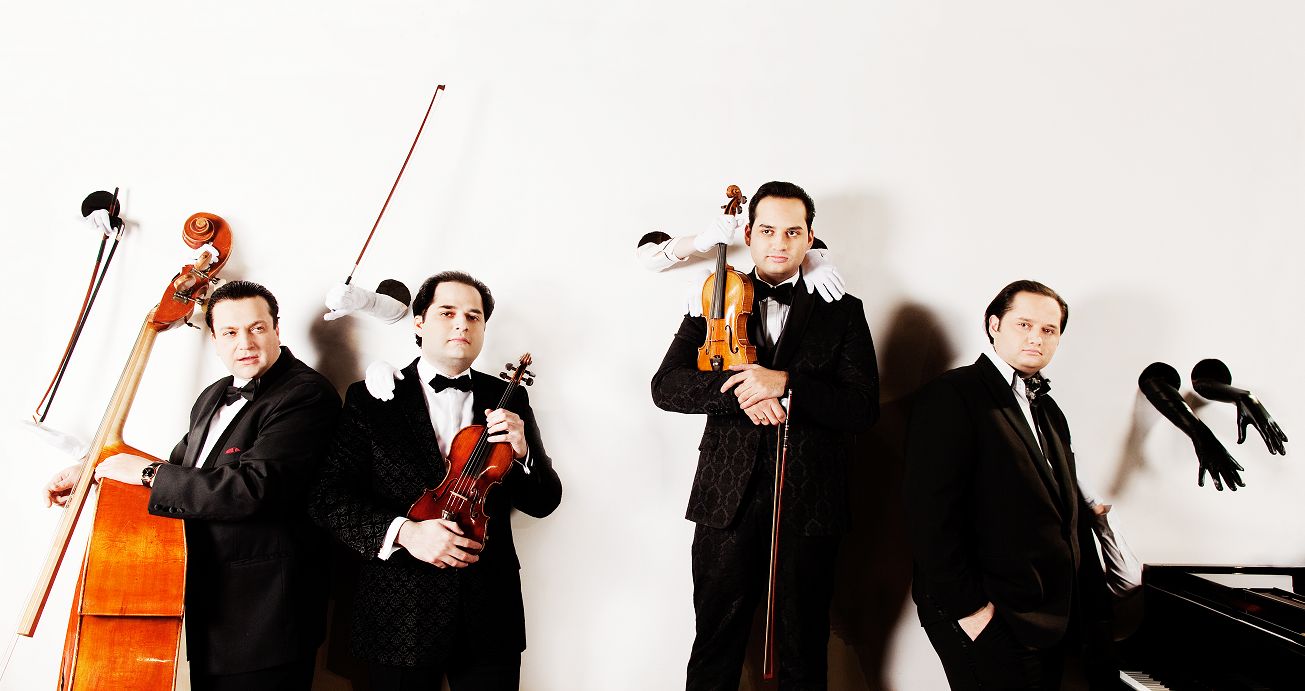 The brothers Ondrej, Roman and František Janoska as well as their brother-in-law Julius Darvas with their Janoska Ensemble, founded in 2013, developed a simultaneously virtuoso and deeply personal vision of modern interpretation. Being united by their family ties and always rooted in classical music, they span an arc from popular works of the classical period to self-compositions to unique arrangements of jazz, pop and world music. In the meantime, the Ensemble, which presented its debut CD Janoska Style at the Vienna Konzerthaus in May 2016, is performing on three continents with programs of instrumental mastery and improvisational art.
Both the Janoska brothers who grew up in Bratislava as well as their brother-in-law from Konstanz can rely on a family tradition of musicalizing, which is several generations, and received their musical education in their home country of Vienna. Since the creation of the ensemble, they have concentrated their artistic energies entirely on the development of their unique style, which has been described by music critics as "Janoska Style". Performances at the Vienna Musikverein, the Moscow Tchaikovsky Conservatorium or the Seoul Arts Center with greats such as Paco de Lucia, Al Jarreau and Anna Netrebko testify to their international reputation.