Grand Bohemian
---
Pure Opulence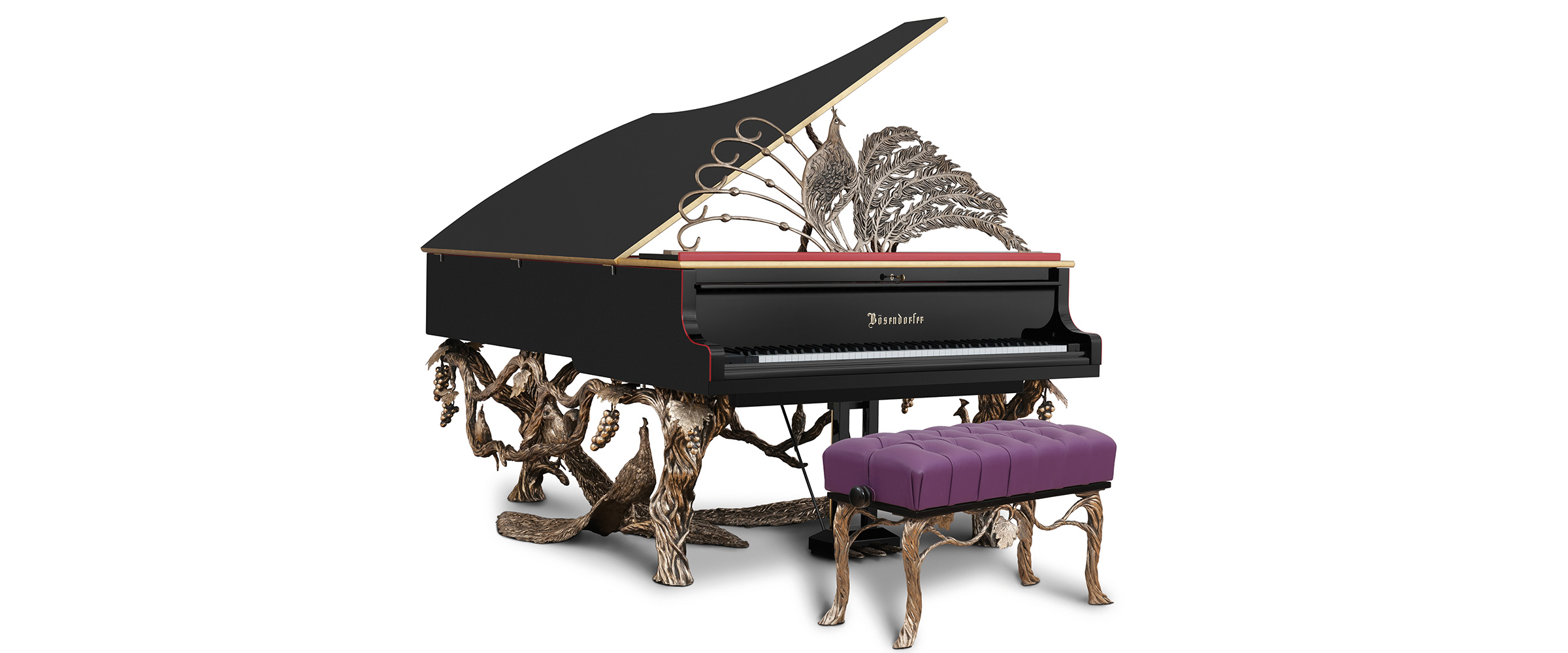 Limited Edition
by Kessler

---
For the creation of its newest piano, Bösendorfer worked with international artist Franco Castelluccio and entrepreneur Richard Kessler — owner of the highly acclaimed Grand Bohemian boutique hotels and a passionate art collector — resulting in a piano which is as much a work of art as it is a musical instrument.

The design for the Grand Bohemian was inspired by pieces from Kessler's personal collection, including a painting of a peacock and a special collection of bronze sculptures. Fascinated by the beauty and elegance of the peacock, and the ideal use of bronze for the base of the piano, Kessler selected these themes and works of art to cultivate inspiration for the design. The Grand Bohemian piano would look as at home in a mythical forest as an art museum or luxury penthouse. A bronze cast base of sculpted tree branches adorn woodland creatures; a majestic peacock with feathers unfurled makes up the music stand. Subtle lighting within the sounding board area and lighting under the rim give the piano an otherworldly glow. Some areas like the frame are gilded with 23-carat finest gold. The vibrant red of the inside of the piano lid and inner rim make this piano unlike any other in elegance and opulence. The "Grand Bohemian" is limited to nine instruments worldwide, this one-of-a-kind masterpiece will be enjoyed by musicians and art aficionados alike.

Bohemianism defines an unconventional lifestyle, and this kind of characterises Richard C. Kessler, hotelier and art collector. When you visit one of his highly acclaimed boutique hotels he wants you to have an immersive cultural experience. Each hotel is filled with original sculptures, paintings, glass art, and contemporary jewelry by nationally and internationally renowned artists. Art and music are recurring themes throughout his fine assortment of hotel locations.

I wanted to honour the instrument, just put it into an art form.

Richard C. Kessler




Weight 419kg
92 Keys - Imperial Design

It is truely a piece of art.
Richard C. Kessler on the Grand Bohemian

Product changes reserved. Photos of products, colours and veneer patterns shown serve as sample. The actual colour of the selected materials may differ.