Woman in Gold
---
Gustav Klimt Bösendorfer Artist Series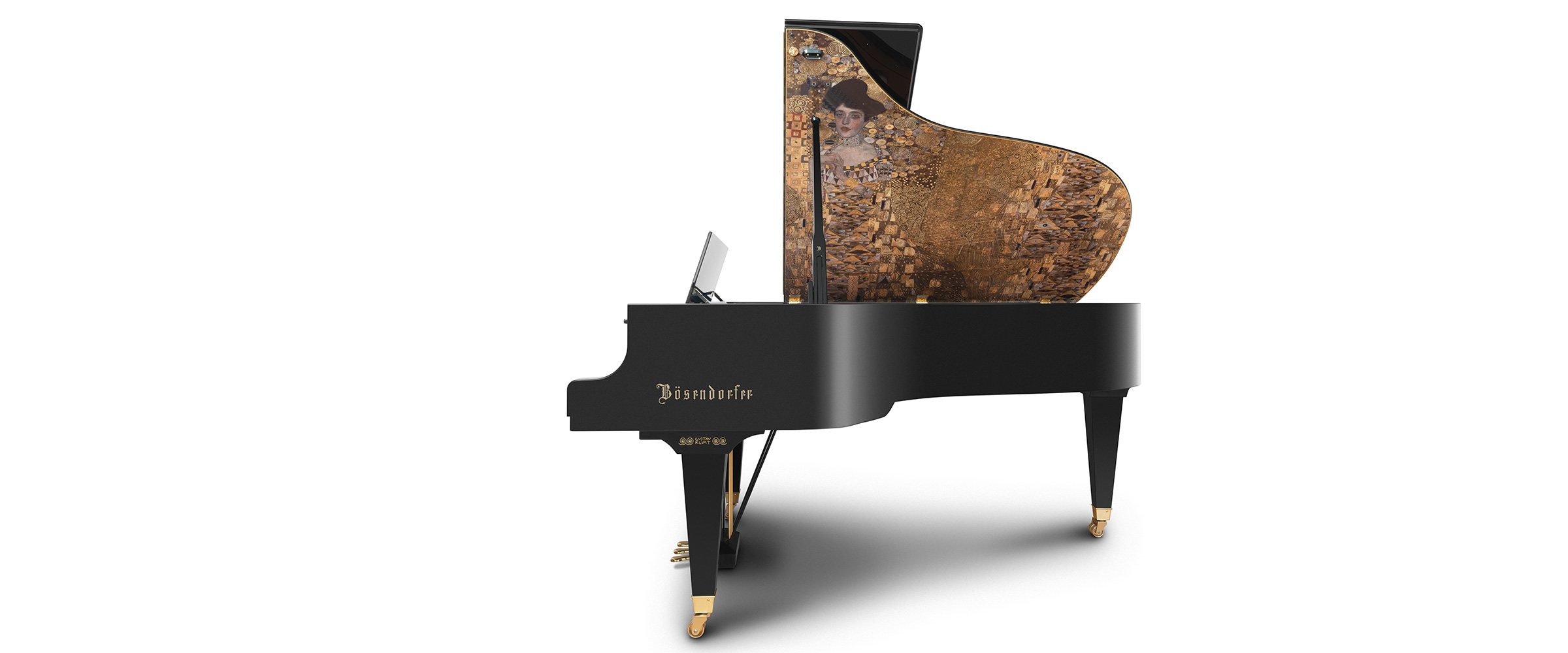 Inspired by Gustav Klimt
---
Gustav Klimt ( 1862-1918 ), one of the most famous Austrian painters and artists of the Viennese Art Nouveau, and Bösendorfer, both greatly represent Austrian culture, dedicated craftsmanship, as well as artistic expression. The second model of our Klimt Series is dedicated to the portrait of Adele Bloch-Bauer. In 1903, Ferdinand Bloch-Bauer, wealthy entrepreneur and connoisseur of great art, asks Gustav Klimt to portrait his wife. Klimt agrees and in the same year, travels to Italy. The gold-decorated church mosaics inspire him to translate this rich artistic expression to contemporary art. Over the following years, Klimt produces more than 100 sketches and studies for the dedicated painting. He experiments with various techniques until he succeeds in applying extensive amounts of silver and gold leaf to the oil painting.

With sophisticated reprographic techniques the high resolution image of the original painting was reproduced on the inside of the Bösendorfer Grand Piano lid. Furthermore, the Klimt painting has been refined by the skilled application of gold leaf. Our Bösendorfer Artisans lavishly gilded the music desk and the leg tops to reflect the golden expression of Art Nouveau. The Klimt model is limited to 25 instruments and each Grand Piano carries an individually crafted brass plate. A sincere tribute to precious materials and lavish art.

The exclusive book "Gustav Klimt / Josef Hoffmann, Pioneers of Modernism" complements our Collector's Edition. Published for an exhibition at the Belvedere Museum Vienna this book centres on the Modernist Movement at the turn of the century. Art, music and craftsmanship – a symbiosis of all levels of Austrian culture. Our Bösendorfer Artist Series Klimt Woman in Gold.
To every age its art, to every art its freedom.
Gustav Klimt


Product changes reserved. Photos of products, colours and veneer patterns shown serve as sample. The actual colour of the selected materials may differ.