Andras Schiff plays for the first time on his pyramid mahogany concert granderstmals seinen Konzertflügel in Pyramiden-Mahagoni
---
Premiere: Sir András Schiff played for the first time on his concert grand piano in pyramid mahogany at Konzerthaus Vienna
Sir András Schiff fulfilled his long-cherished wish and presented for the first time the especially for him built 280VC Vienna Concert in Pyramid Mahogany on June 3, at the Konzerthaus in Vienna. The perfectly lit grand piano suited wonderfully into the ambience of the large concert hall.
Why are today all pianos on stage black? String instruments present their natural wood - why not a grand piano?
His concert program placed works by Brahms, framed by his idols Mendelssohn Bartholdy, Beethoven and Bach, in the center of the evening and the creative freedom of the composers: sometimes virtuoso, sometimes lyrical. Schiff created an infinite spectrum of colours and finest nuances. The newspaper "Die Presse" describes the grand piano with "... noble sonority. An ideal instrument for an interpreter who relies on differentiated elegance and lyrical density, even in the most dense, technically demanding passages. The highlight was Schiff's meticulous interpretation of the late Brahms pieces, whose subtle sonorities and complex rhythms he worked out with unparalleled naturalness." Between the never-ending applause of the audience, Schiff played five encores. His concert grand piano - 280VC Vienna Concert in Pyramid Mahogany – accompanies him from now on to his concerts in Europe.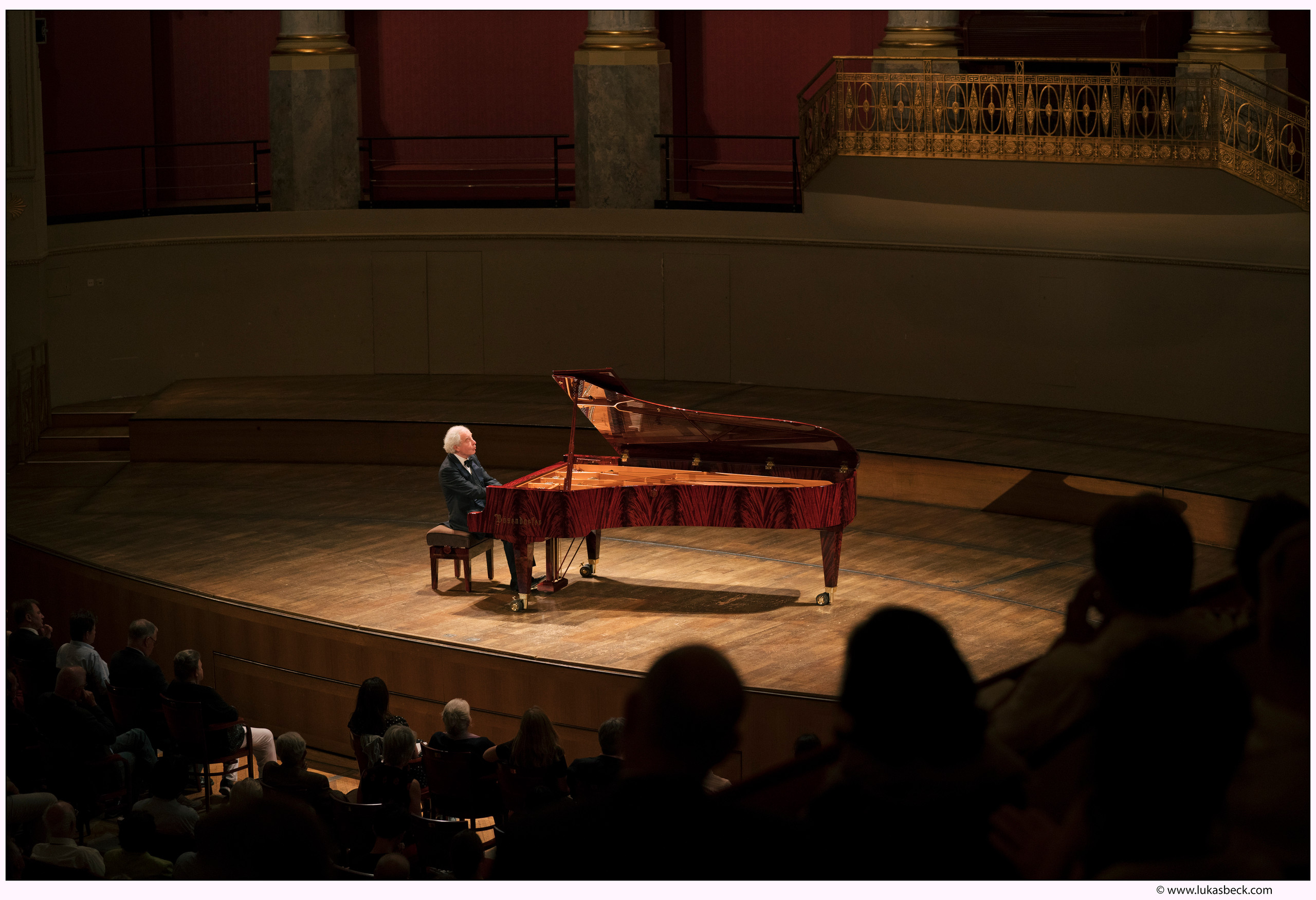 Concert program:
Felix Mendelssohn Bartholdy - Fantasies fis-moll op. 28 «Sonate écossaise» (1833)
Ludwig van Beethoven - Sonata Fis-Dur op. 78 (1809)
Johannes Brahms - Eight Piano Pieces op. 76 (1878)
***
Seven Fantasies op. 116 (1892)
Johann Sebastian Bach - Englische Suite Nr. 6 d-moll BWV 811 (1720 um)
-----------------------------------------
Encores:
Johann Sebastian Bach - Italian Concert (1. Satz: Allegro). Concerto nach italiänischem Gusto F-Dur BWV 971 (Clavier-Übung II) (1735))
Johannes Brahms - Intermezzo A-Dur op. 118/2 (1892)
Felix Mendelssohn Bartholdy
Lied ohne Worte E-Dur op. 19b/1 (1830)
Lied ohne Worte C-Dur op. 67/4 «Spinnerlied» (1845)
Robert Schumann - Fröhlicher Landmann (Album für die Jugend op. 68) (1848)