Since 1914 at
the Heart of Vienna
---
Ludwig Bösendorfer, actively involved in Vienna's cultural scene, was elected honourable member of the Committee of Vienna's Society of Friends of Music in 1869. For that reason our flagship store was moved 1914 to the rear of the world famous concert hall. Up to today you will find our fine assortment presented in Vienna's 1st district. Visit us and discover the Bösendorfer Sound universe. An experience destined to surprise you.
Select Your Instrument
---
Whether you would like to try the responsive mechanical action of a Yamaha upright, or you would like to carefully select your handcrafted Bösendorfer Grand - we will assure you discover the vast diversity of piano sound. We specialise in finding the sound impression that is perfect for you. For beginners we also offer the unique opportunity to upgrade to a Bösendorfer Grand within 5 years after your first purchase from us. Take your time when selecting your instrument - a Bösendorfer is crafted to last for generations.
more
Bösendorfer Disklavier Edition
---
Simply moving: Listen to the grand works of great masters of piano music without lifting one single finger.
more
Bösendorfer in Wien

Bösendorfer Salon
Bösendorferstraße 12, Musikverein
(Entrance Canovagasse 4), 1010 Wien
+43 1 504 665 13 10
salon@boesendorfer.com

Opening Hours:
Monday till Friday
10:00 - 18:00 o'clock
Financing & Leasing
---
Calling a Bösendorfer Grand your own is an experience destined to last for generations. We will find the optimal way for you to finance or lease your instrument. Initial pay, time frame and interest rates are always dependent on the valued instrument and your personal preferences. For detailed information we are standing by to assist you.
Upgrade Guarantee
---
With our Bösendorfer Upgrade Guarantee you select the tempo when it is time for your Bösendorfer. For beginners we offer reliable Yamaha instruments that have been voiced and serviced by Bösendorfer Concert Technicians. As soon as you would like to immerse yourself in the Bösendorfer Sound universe, your upgrade will be ready.
Your Grand Event
---
Special occasions require exceptional instruments. Whether it is for your own concert, wedding or festival - we will support you with the perfect sound frame. Concert Grands, Grand Pianos or Cembalos are at disposal within our rental fleet, ready to shine at your event. Our service team will take care of transport and arrangement, voicing and tuning before the event. All you have to do? Celebrate.

+43 1 505 29 48 125 | +43 1 505 29 48 127
rudolf.plank@boesendorfer.com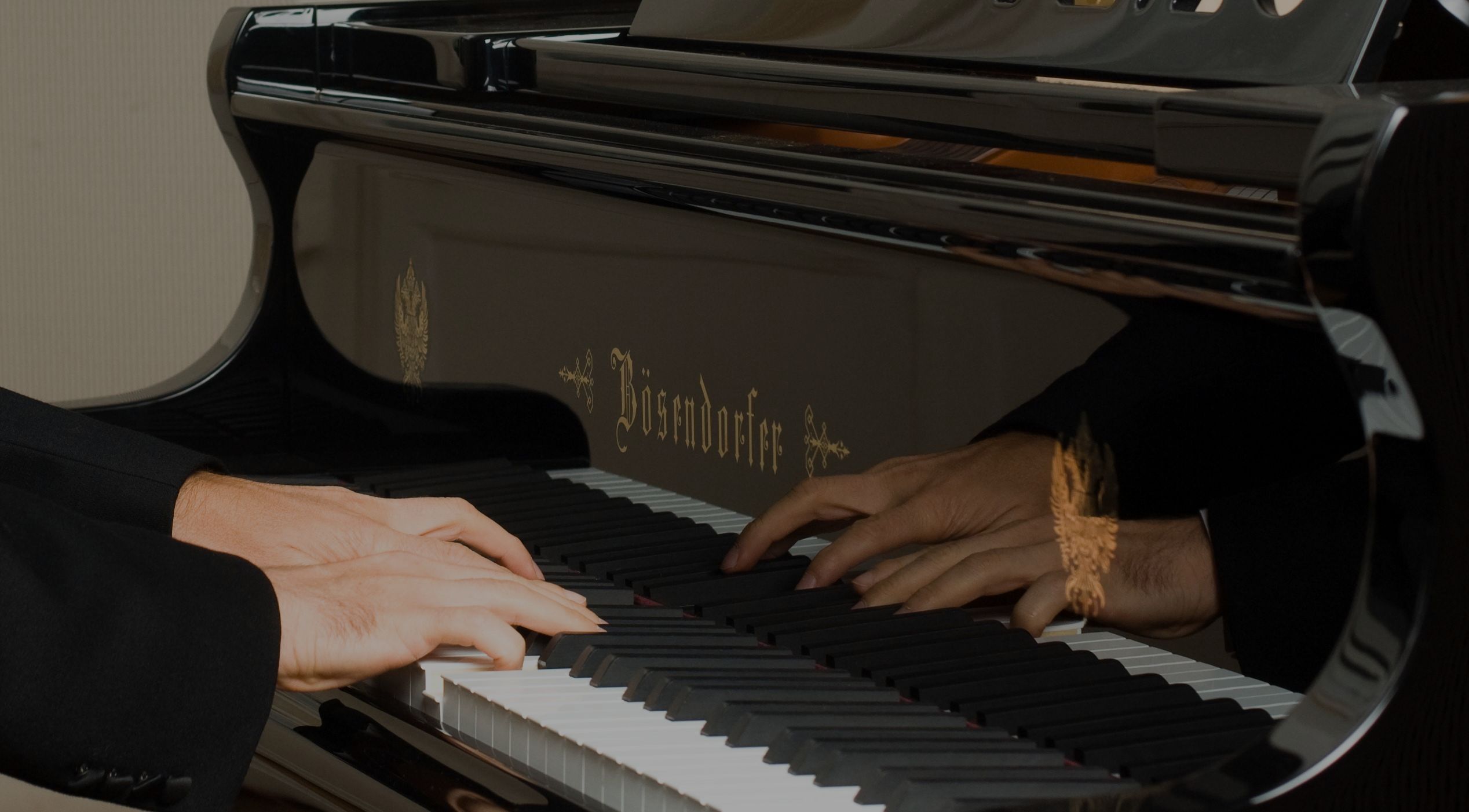 Piano Key Cleaning
---
Our best recommendation for keeping piano keys clean is to have anyone who is planning to play the piano wash and sanitise the hands in advance. For extra precaution use an over the counter, light solution of hydrogen peroxide of maximum 3%, which is available in any pharmacy. Dampen a pad with the hydrogen peroxide and use the pad to wipe down the piano keys. Do not reuse the pad. Always follow up with a dry pad or soft cloth. Never leave liquids on the keys.
Bösendorfer Newsletter
---
You are welcome to register for our newsletter here - we will keep you updated on upcoming concert and inform you about the latest Bösendorfer news.
We are looking forward to your visit.
more