The Magic of a Bösendorfer
---
Our piano manufactory is not only the oldest one within the premium segment but all our Bösendorfer Grands also share distinct and fundamental features in the way they are crafted. It is safe to say we are obsessed by crafting the ultimate piano sound experience. This difference to other brands results in the unique Bösendorfer DNA, the warm yet brilliantly colourful sound of a Bösendorfer instrument. Whether you play our Grand Uprights, Grand Pianos or Concert Grands, each instrument is crafted with utmost care and dedication by the hands of our Bösendorfer Artisans.
Grand Uprights and Pianos
---

Illuminating the Bösendorfer Sound universe on the world's famous stages or within the intimate surrounding of your own 4 walls: the sole limitation of your Bösendorfer Grand is its surrounding. Everything else is taken care of by us. Our instruments will unveil the fine nuances of the music you play - key by key, yet unseen and unheard. Uncompromising traditional handcrafting, beauty and the Viennese soul: Made in Austria.
Our Resonance Case Principle
---
Bösendorfer Manufactory: Assembling the resonance case rim
Contrary to all other manufactures Bösendorfer constructs instruments concentrating on the use of spruce. More than 80% of this wood, ideal for instruments, can be found in Bösendorfer pianos. Very similar in principle to a violin the whole body - not exclusively the soundboard - supports sound formation. The actual core of the piano rim consists of a 10 mm quarter-sawn piece that is specially grooved by our craftsmen to allow it to be bent to the silhouette around the inner rim – this is unique to Bösendorfer. When a note is played, the integrated spruce components become acoustically active, forming a complete resonating body that allows the whole instrument to project your play. For outstanding richness of tone colour and our legendary pure and brilliant sound. This complex construction is part of the Viennese tradition of piano making.
Some people think a grand piano is a percussion instrument.
I seriously beg to differ!
Sir András Schiff
Naturally Wood
---
The basis of each Bösendorfer Grand is spruce that is naturally dried by air and has proven to be the ideal tone wood. The four seasons, sun, wind and wide temperature differences gently prepare this wood for its final purpose: to resonate. At Bösendorfer we use more than 80% of spruce tone wood building our instruments, more than any other manufacturer. Our Austrian spruce has to be grown at a minimum of 800 meters above sea level guaranteeing a very dense and regular grain structure. Harvested in winter, when the sap is at its lowest, it is subsequently quarter sawn for parallel grain. When you add the natural drying process to our manufacturing time, it actually takes 6 yearsuntil the Bösendorfer Grand arrives at your doorstep. Precious time, necessary to craft the unique Bösendorfer Sound.
5 years of natural drying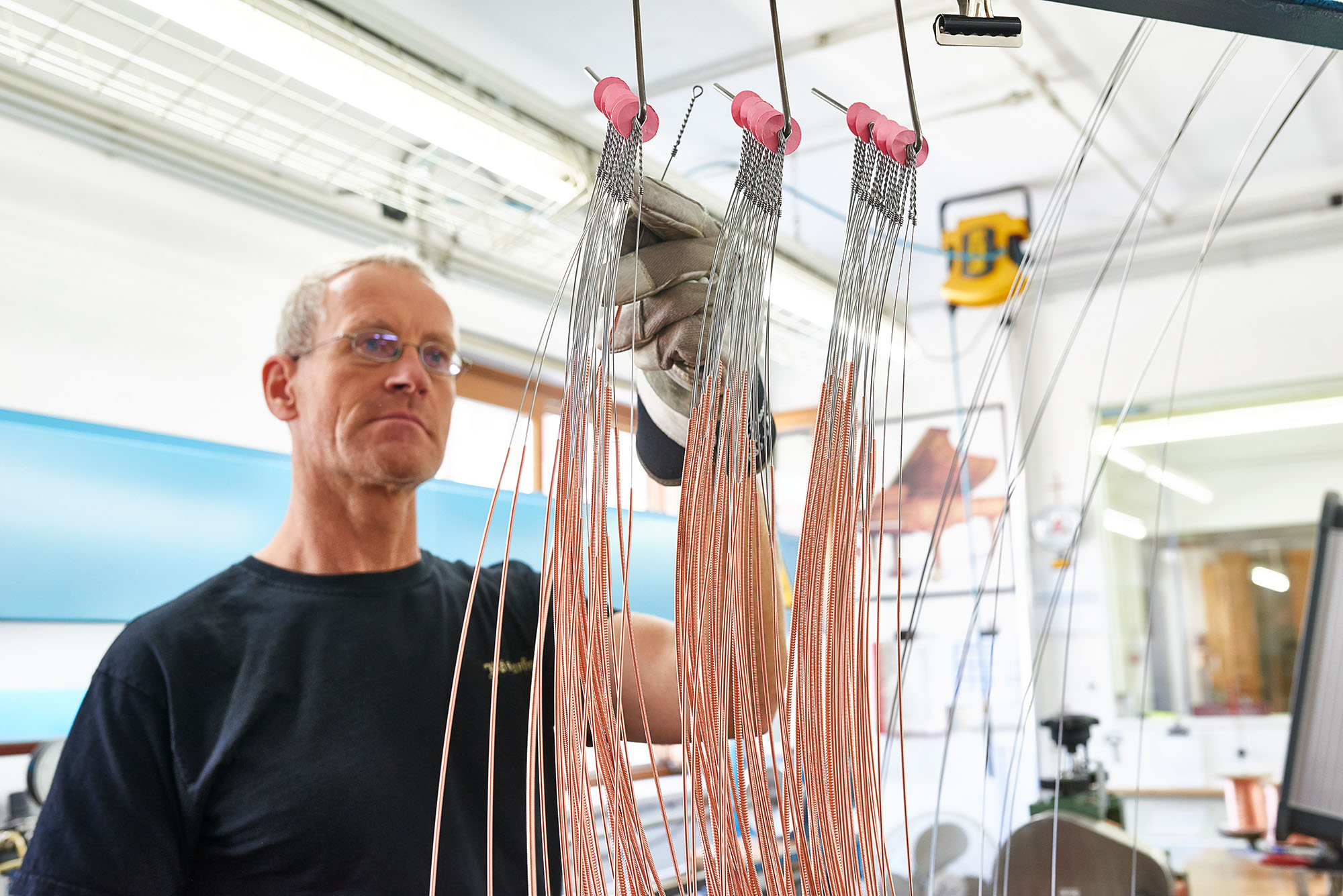 Handcrafting our bass strings
Hand Spun Bass
---
All bass strings are spun in our unique Bösendorfer way. A steel core string is the basis for 1 or 2 layers of copper. The carefully spun strings are a substantial element of the warm and sonorous Bösendorfer bass.
Handcrafted in Austria
---
Bösendorfer Grands are not just an object of investment but of value that will last more than one generation. Our skilled Bösendorfer Artisans reveal the inner beauty of the Bösendorfer sound, unique in colour, dynamics and expression. Perfected throughout, passed on to inspire, generations. It takes the dedication of our Bösendorfer Artisans for up to a year to build your Bösendorfer Grand. A personal touch that you will sense the moment you play. Austrian quality, Viennese soul.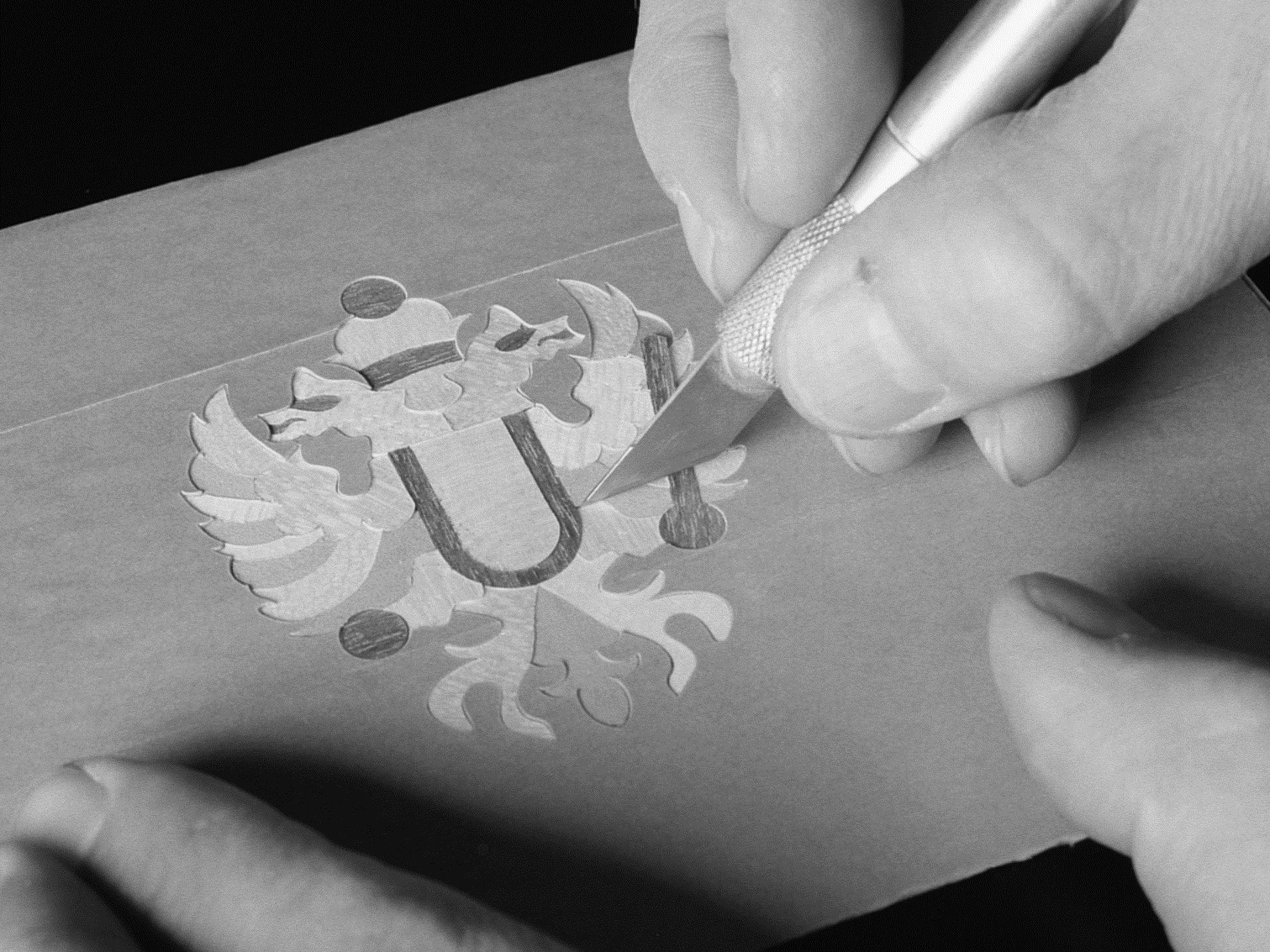 Independent Capo d'Astro
---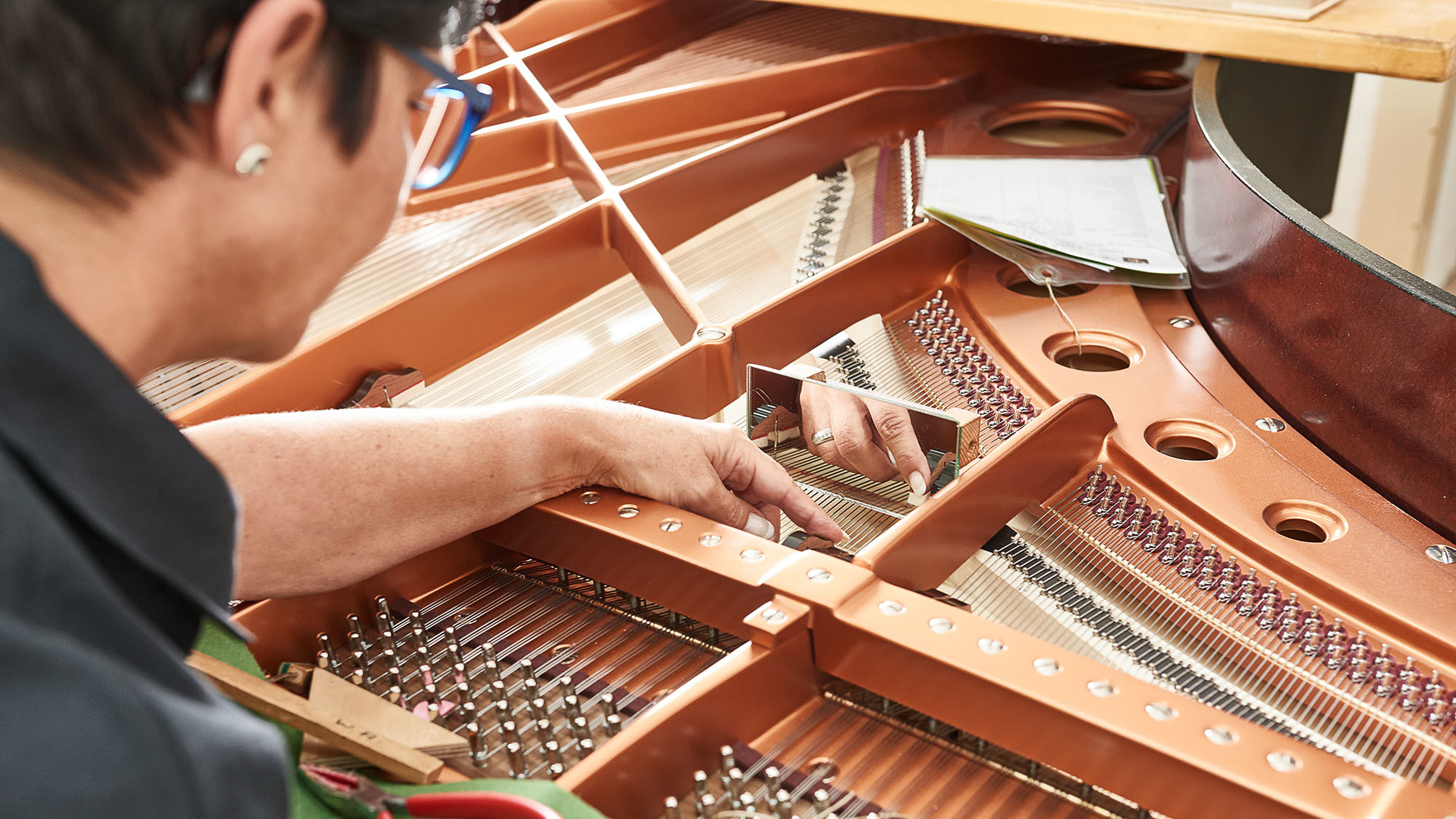 Bösendorfer is the only piano manufacturer that applies a detachable and independent Capo d'Astro in the upper register. This is how we assure most precise adjustment in the upper register guaranteeing the original Bösendorfer Sound for generations: Unique sound for more than one generation.

Sometimes pianists try to sound like singers. Me personally, I try to sound like a Bösendorfer.
Placido Domingo
Traditional Sand Cast
---

We are using the traditional sand casting to forge our frame. Our raw frames, produced in Austria, rest 6 months outside the factory. This is how all inner tensions of the forging process are released allowing the frame to remain relaxed under20 tons of string tension. Pure stability.


Picture: Cast iron frame of the Concert Grand 290 Imperial
Bösendorfer Action
---

From delicate pianissimo to splendid fortissimo: A Bösendorfer Grand shows optimal controllability. Developed in cooperation with artists and technicians our action is crafted to our own, refined specification. This action is built to transfer the finest articulation of masterful play. Controllability at play.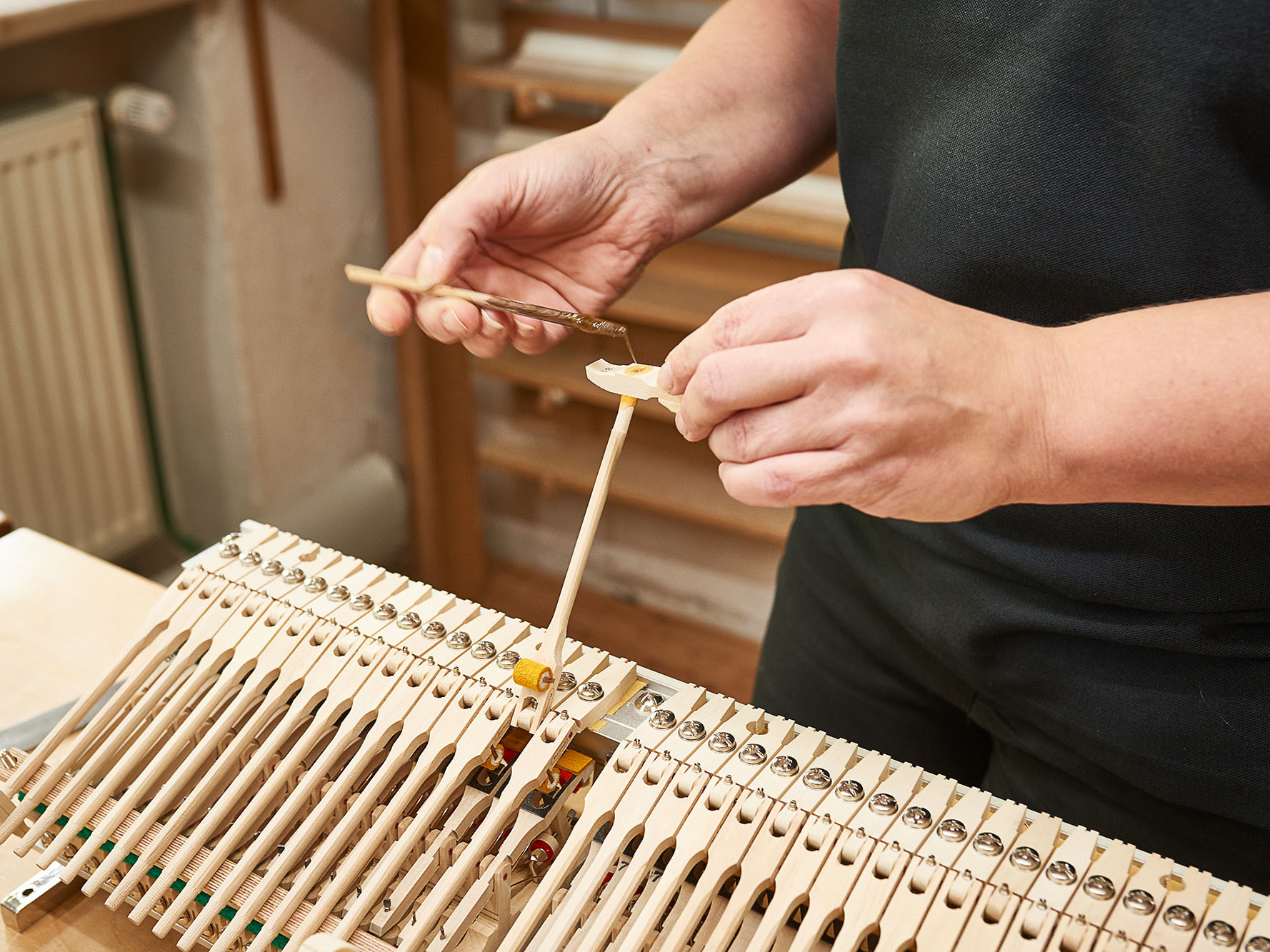 Careful action refinement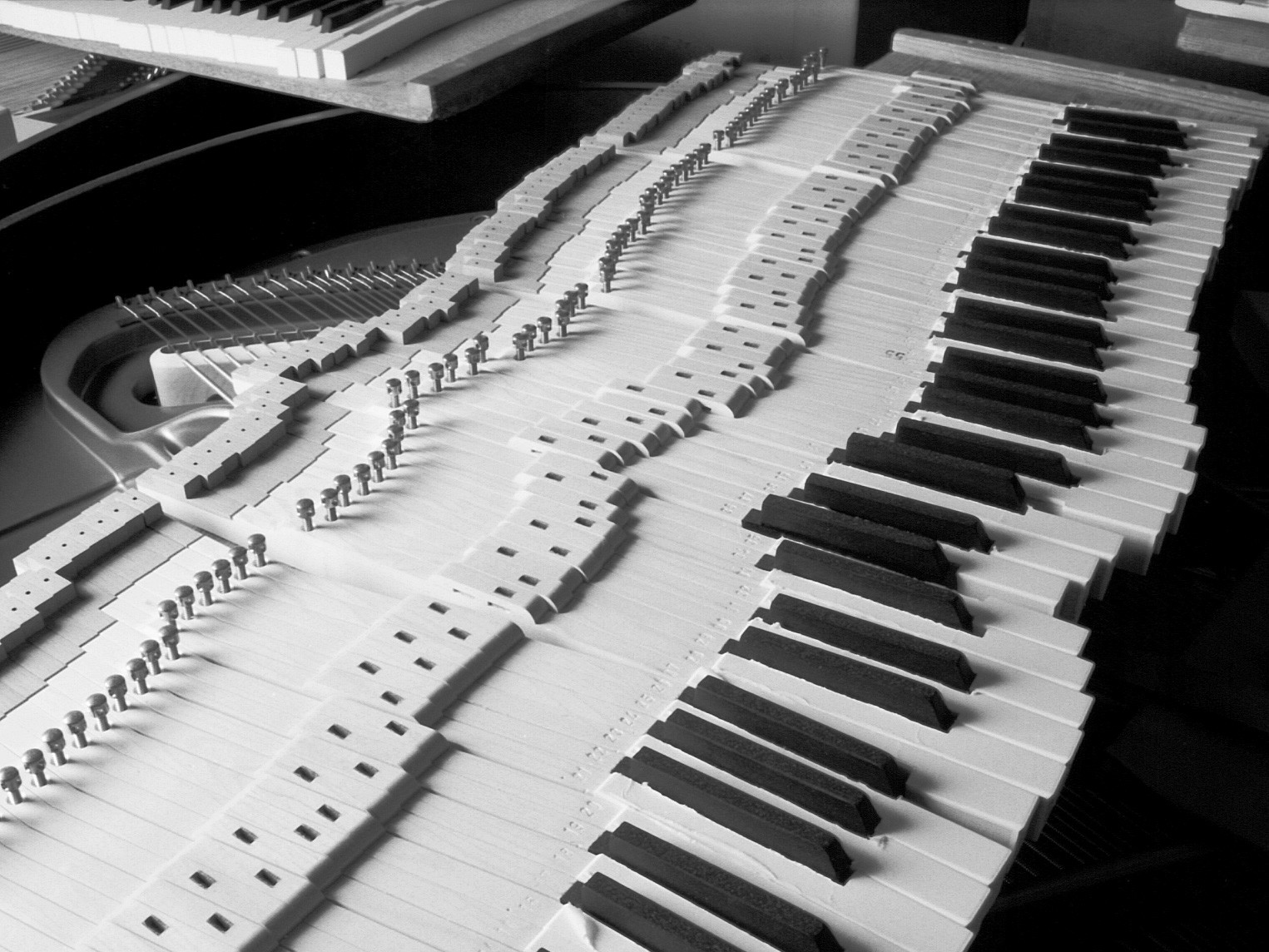 Keyboard ready for action assembly
Exceptional Touch
---
Bösendorfer keyboards are manufactured for us by Kluge in Germany. Each keyboard must comply with our technical specifications and meet the highest quality criteria. The patented Tharan coating – inspired by ivory – provides a pleasant feeling of play. Your touch that resonates.
Your Imagination Built
---
The exclusive production of close to 300 instruments per year allows us to meet your individual requests. Whether you would like to apply precious veneers, your favourite colour or an emblem designed by yourself carefully engraved by master artisans: Anything is possible. Our Bösendorfer Artisans will prepare a colour sample, before we start production and collaborate with you on your design. After your approval, your very own, unique instrument is crafted:
An instrument as extraordinary as you are.

Contact us or your closest Bösendorfer dealer to discover
more about our customization options.
Then & Now
---

In 2008, the Japanese enterprise Yamaha acquires Bösendorfer. Conscious and cautious about the precious heritage Bösendorfer is carrying, the Austrian manufactory remains fully independent and continues to be operated as separated Austrian Ltd, fully owned by Yamaha. Successfully restructured and fortunate to further develop distribution with a partner experienced and sophisticated within the music industry allows Bösendorfer to gain new strength. Bösendorfer works closely together with Yamaha when it comes down to selling our instruments, however, all Bösendorfer Grands are manufactured in Wiener Neustadt, exclusively. We are confident about our own product developments and latest engineering driven by our local Austrian team. Bösendorfer focuses on the premium manufacturing of close to 300 instruments per year, which are handcrafted close to Vienna, from where it all started.
Bösendorfer Salon
at the Musikverein
---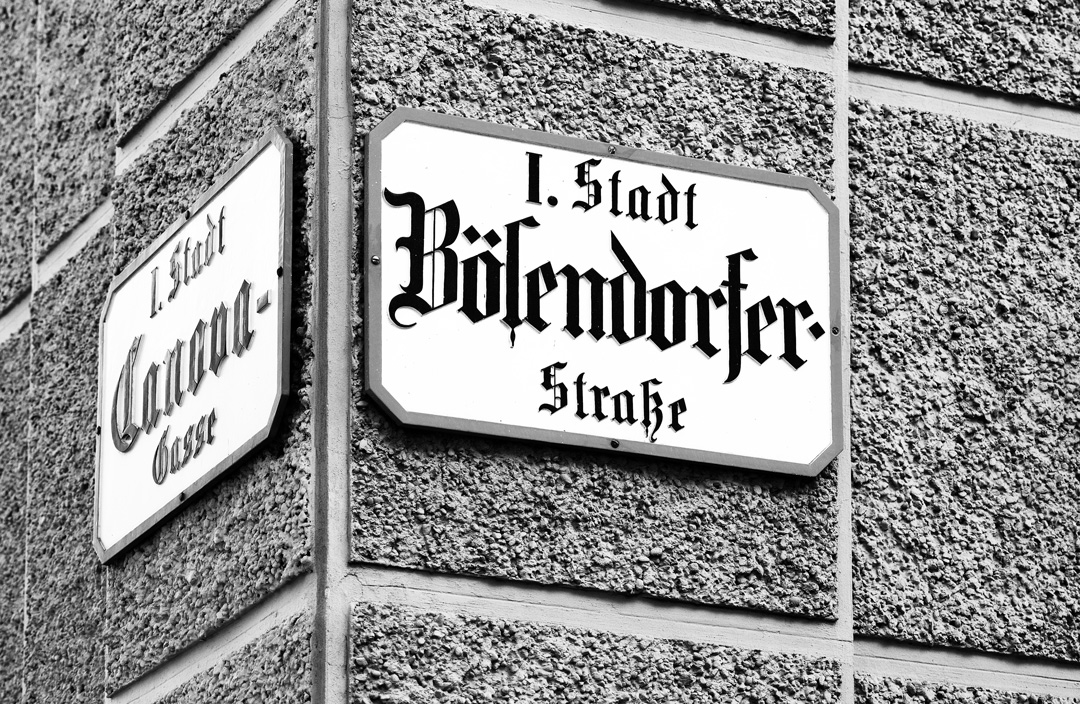 Since 1914 and still to be found at the same spot today: Our flagship store at the Musikverein, Bösendorferstraße 12 | Canovagasse 4 at the heart of Vienna. Your piano shop to find your grand sound.
more